#WanderWednesday: Hotel Elysée
Happy #WanderWednesday everyone! Today I'm bringing you highlights and recommendations from my trip to NYC over Memorial Day weekend, which features a stay at Hotel Elysée by Library Hotel Collection. Keep reading to find out what I did over the course my trip and what to bookmark for your next NYC excursion!
I was traveling to NYC with my little brother Alec and after slogging through Friday night traffic we decided to reward ourselves with some Chinese standards. We ventured out to Hop Kee, where we had sautéed watercress and beef lo mein underneath a dozen framed photos of Anthony Bourdain. The dishes was extremely tasty and authentic, and hit the spot for late night noms.
After waking up bright eyed and bushy tailed (read: in desperate need of caffeine!) at Hotel Elysée, we trotted to the second floor to take full advantage of the coffee station they have round the clock. This one undoubtedly one of the nicest amenities of any of hotel I've stayed at recently, as coffee is one of those things that is never in too full supply.
We headed over to Chelsea for some photogenic brunch courtesy of Forager's Table. The restaurant is an offshoot of Forager's Market, an artisanal grocery store known for its ready-to-eat options. Alec had multigrain waffles with bacon jam and fresh berries while I gravitated to the chickpea and heirloom tomato stew with Merguez sausage and rosemary potatoes. My mouth is watering just thinking about how good these dishes were, and the service was awesome to boot!
We then ambled over to Chelsea Market to see the highly touted Artists & Fleas flea market. We ended up honing in on a Theory sample sale found through the ShopDrop app (where I scored a beautiful suede bomber for 80% off!) instead of perusing the stalls as the crowds were intense but could definitely see the appeal of snapping up unique jewelry, clothing, and vintage items.
We stopped into Toby's Estate for a quick mid-afternoon pick-me-up and had a really delicious mocha and flat white respectively.
We stopped by Canal Street Market in SoHo on our way to Chinatown--there was an ample selection of curated retailers, ranging from food-based beauty products to hypebeast streetwear and everything in between.
I had been eyeing Eggloo for a while, as who doesn't love imaginative, beautifully prepared ice-cream based snacks? This Hong Kong-based shop creates "cones" made from egg waffles that they then pair with ice cream or soft serve and unlimited toppings. We tried out the original waffle with chocolate ice cream, Oreos, whipped cream, chocolate drizzle, and chocolate Pocky and the chocolate waffle with black sesame soft serve, almonds, and mochi. Both were impeccable but I can tell you that chocolate waffle with soft serve is definitely the way to go!
We sauntered over to the waterfront to snag a few pictures of the Brooklyn Bridge before heading to Golden Unicorn to get our dim sum fix. This is one of my favorite places to get round the clock dim sum--the premises are clean and efficient, and while there is something lost from not having the Chinese women pushing carts around, the dim sum itself is still wholly authentic.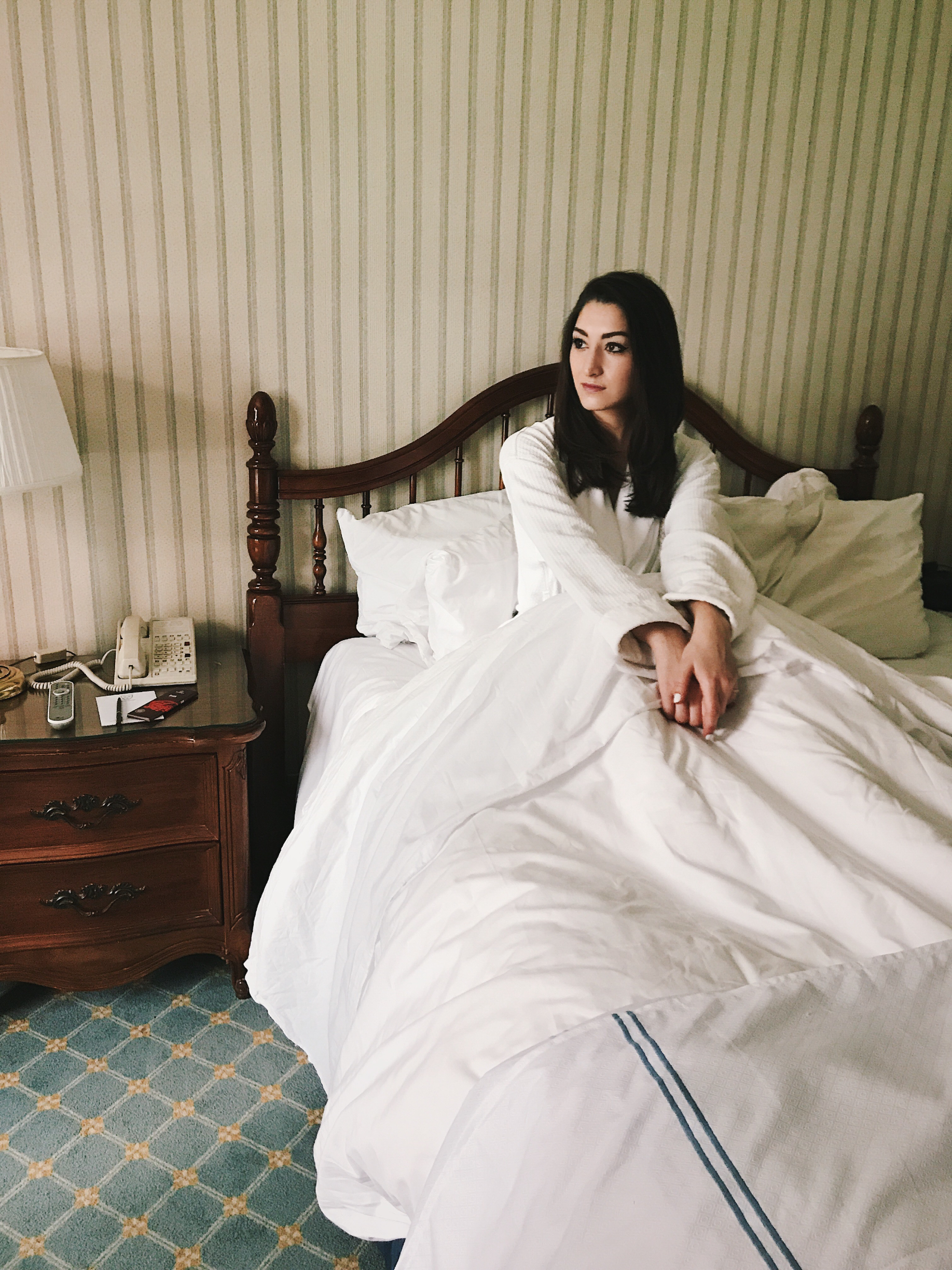 Sunday was much lazier, and getting out of bed was made that much more difficult by how cozy the bed at Hotel Elysée was. I loved the gold detail throughout the suite too, and the bathroom made great use of a tighter space--the luxurious feel was real between the gold and the fact that I had more than enough room for all of my toiletries!
After muscling my way out of bed, we traveled down to Atrium DUMBO to be met with the best blood orange mimosas ever. We also sampled their biscuits, eggs Florentine with crab, and fried chicken and waffles, which were all phenomenal.
In the interest of full disclosure, I had suggested we come to DUMBO almost exclusively for this shot, and I was so glad I was tall enough to snag this over the heads of dozens of people who had the same idea.
We crammed in another caffeine sojourn at Brooklyn Roasting Company, which was beautiful and inviting with great coffee. The space looked like the perfect place to set up shop and work for the day, and I was almost sad to leave it so soon.
We stopped back at Hotel Elysée for a quick break and were delighted with the chocolate and wine that was left for us--a perfect snack on an easy Sunday, and one of those little details that made Hotel Elysée truly stand out.
We rounded out the day with a trip to the Met, which was my favorite museum visit to date. They're currently featuring a truly stunning exhibit by Comme des Garçons at the moment so if you're going to be in NYC any time in the next few months you should absolutely check it out!
I hope you enjoyed this breakdown of our excursions--let me know if you end up visiting any of these places + if they are as awesome as you expected!
x Kira